The results came through from a batch of early September micro moths from our county recorder.
This is 964a Cochylis molliculana caught on 3rd Sept.
I now have confirmation from David Manning, county recorder, for this garden first record. This species is moving north
964a ... Cochylis molliculana.
Another garden first turned up from the same batch ...
364 Phyllonerycter geniculella 2nd Sept 2013
The moth was a bit too battered for a worthwhile photo so I have taken the liberty of ripping off a pic from the German site Lepiforum ....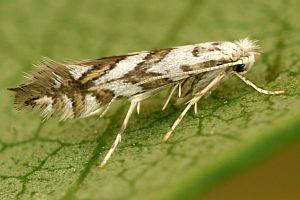 364 ... Phyllonerycter geniculella ... Photo Lepiforum
--- an excellent site and highly recommended.
http://www.lepiforum.de
.
Traps 20th Oct.
Traps under rain covers.
0229 ... Monopis obviella
0998 ... Epiphyas postvittana x 3
1524 ... Emmelina monodactyla
2091 ... Dark Sword-grass
2267 ... Beaded Chestnut
2375 ... Large Wainscot
2389 ... Pale Mottled Willow